August 21, 2020: Aspire Annual Banquet: A Time to Laugh
COVID19 is helping all of us learn to be flexible – to say the least! With rising cases locally, we have decided it is best to protect the well being of our supporters by meeting in smaller groups rather than meet in a large group at Centerpoint Church.
The location for each group is being determined by the table host. Each table host of 8 guests is hosting the event in his/her home, at a church or other location. If you have been invited to attend by a table host, please contact them to determine where you are meeting. Your group's delicious Italian ready-made meal and all cutlery will be picked up around 5:00pm from Centerpoint Church by the table hosts – so there is nothing to prepare in advance.
In addition, each location needs to have a computer to login to the Zoom live talk/videos. Marcy will send out the Zoom invite to each table host and individual who would like to view the program. She will be speaking live at the Timber Ridge Clubhouse and the event will be broadcast via Zoom beginning at 6:00pm.
If you are a table host and hosting people for the event, please send your Email address to director@aspirepagosa.org by August 10th so we can add you to our list of Zoom invites. If you would like to attend virtually or in one of our smaller groups, please contact us via Email at director@aspireapagosa.org or call the office at 970-264-5963. Everyone who wants to participate needs to let us know in advance.
Thank you all for your support and understanding during these unusual times. We especially are grateful for our table hosts for helping this event be successful! We look forward to seeing you all virtually or in person on August 21st!
Other past events in 2020:
May 2, 2020: Walk for Moms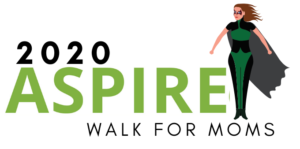 Thank you Pagosa for an incredible turnout and successful Walk! We raised almost $20,000 and exceeded our goals! Your generosity and enthusiasm blew us away!
All proceeds go directly to help offset costs and keep our prenatal care affordable to everyone in the community as well as provide evidence-based parenting and prenatal education programs.
If you are interested in being on our event committee, please email Marcy by calling 970-264-5963 or Email: development@aspirepagsoa.org.