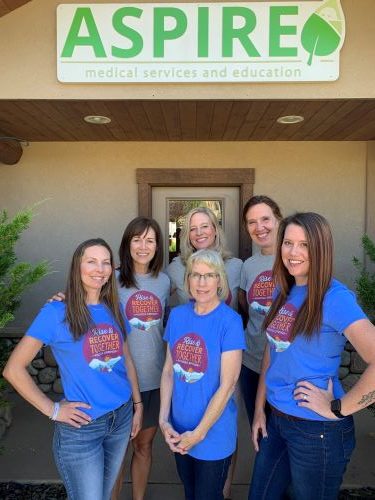 Aspire Staff (from left to right): Megan Castaneda, Renee Smith, Marcy Mitchell, Dr. Carole Nasralla, Brittany Bedtke and Becky Abraham (front center).
Our Caring Staff
Marcy Mitchell – Executive Director: Marcy served as a volunteer for 2 years as well as being appointed Client Services Director before stepping into the Executive Director position in 2017. Other local volunteer work included serving on the Pagosa Springs Town Tourism Committee Board, representative on the Pagosa Outreach Connection, leading Women's Bible Study and serving in the nursery at Centerpoint Church, being a Destination Imagination appraiser/coach and regional challenge master, and providing marketing assistance to a number of nonprofit organizations. In addition to volunteer work, Marcy Mitchell owns MTECH – Your Digital Shepherd. In that capacity, Marcy has worked with hundreds of small business owners to develop marketing strategies, websites and Internet presence for the past 20+ years.  She also served as a certified Marketing for Smarties coach, Small Business Development Center advisor, and spoke at numerous Chamber, community and SBDC events and seminars in the Southwest Colorado area.
When not running her business, Marcy and her family love hiking, skiing, exploring the amazing Colorado wilderness, and traveling. Marcy and her husband, Bart, have three children – Brayden, Hayley and Sydney. "I am so blessed to work alongside so many courageous and compassionate people at Aspire. We are privileged to welcome the newest babies into our community as well as support the young families of Pagosa Springs."
Carole Nasralla, MD – Medical Director and Prenatal Care Provider:
More details coming soon!
Becky Abraham – Client Services Director: Becky Abraham spent most of her adult life as a busy homeschooling mom and wife.  While raising four children, Becky worked with young people in the local home school group, cared for aging parents, and became involved in church activities that taught her many life lessons about working with people from all walks of life.
She became interested in the ministry of pregnancy resource centers in 2008 and became a Client Advocate at Aspire (formerly
THRIVE) that same year.  Family circumstances took her to another town where she also volunteered at a similar center.  Upon returning to Pagosa Springs, she volunteered for another period and was hired as Client Services Director at Aspire.
Becky is involved in Children's Church and the music ministry at her church in Pagosa Springs.  She is married to Mick, and they have four grown children- two in Colorado, one in Florida, and one in Alaska.  Travel has become a big part of her life!
Renee Smith – Development Coordinator:
More details coming soon!
Brittany Bedtke – Clinic Manager:
Brittany oversees care for our medical clinic clients and services which include prenatal care, pregnancy tests, ultrasounds and STI/STD testing. She is certified to perform limited OB ultrasounds and is an EMT and Medical Assistant. Brittany is very passionate about OB/Prenatal care! She has worked in several departments within Pagosa Springs Medical Center since 2009. In fact, she worked for our physician Dr. Carole Nasralla and Fran Scriber, PA in the hospital/clinic a few years back.
Brittany also owns Ski and Bow Rack – a successful local store in Pagosa Springs. She is married to Robert and the proud Mom of Trent, Peyton and Eden. She has lived in Pagosa Springs for 30+ years, loves the outdoors and skiing, and is very excited about caring for our Moms, Dads and babies!
Megan Castenada – Clinic Assistant:
More info soon!
Michael Riggs – Men's Program Director:
Michael completed school early in the inner cities of Colorado Springs and Denver where the effects of fatherless homes were devastatingly apparent. He says his life really began was he was 20 and fell in love with his now wife and her two year old son who he adopted. Soon afterwards, they became proud parents of their daughter. This was when Michael began to understand the importance of stabilization. "I always knew that I wanted to give my children a chance to do more in life. At the age of 23, I became the youngest in my family not only to have children but to have built my own house."
During the building of their home, Michael started a 5 ½ year career in law enforcement. After his wife was diagnosed with a severe medical condition, Michael left law enforcement and went into Emergency Medical Services. Michael also was the head of the Fatherhood Initiative Project for Archuleta County until the grant was award to another county. He joined the Aspire (formerly THRIVE) as Men's Program Director in 2015.
With a growth mindset of seeing challenges rather than barriers, Michael has learned that financial security equals more quality time with loved ones. He explains, "I have become a leader for my family and to my community. I will continue to live my life growing in personal development and teaching that things can change with a different perception on life."