Prenatal Care & Post Partum Care
Early prenatal visits are critical for the health of both infant and mother. Prior to our prenatal clinic opening, many Archuleta County women would delay seeing a physician due to transportation or financial reasons. At that time, the nearest OB/GYN provider was in Durango – 60 miles away. We sought to address this issue directly by providing an affordable prenatal clinic on Wednesdays from 9:00AM to 5:00pm.
During the prenatal visits, Dr. Carole Nasralla MD and staff educate mothers on important health issues, such as their diet and nutrition, exercise, immunizations, weight gain, and lifestyle choices. Our compassionate staff also monitors women for health-compromising conditions, informs clients about injury and illness prevention, and helps them prepare for the new emotional challenges of caring for an infant. Our medical provider has extensive experience in offering OB/prenatal care for more than 20 years.
We do not offer delivery services here at Aspire Medical Services and Education. Depending on the chosen delivery provider,  patients either transfer at 28 weeks or 36 weeks to one of the Durango delivery providers.
According to the Maternal and Child Health Bureau of U.S. Department of Health and Human Services, mothers who receive late (defined as beginning in the third trimester of pregnancy) or no prenatal care are more likely to have babies with health problems. In fact, mothers who do not receive prenatal care are three times more likely to give birth to a low-weight baby, and their baby is five times more likely to die.
We serve all patients regardless of ability to pay. Our generous donors help us provide these services so that no one in our community needs to delay prenatal care or postpone pregnancy -related medical services due to financial reasons. We do bill Medicaid and insurance for some of our prenatal care services to help offset costs. However, we ensure that everyone gets the care they need regardless of income. We also offer a sliding scale based on income. DOWNLOAD OUR SLIDING SCALE APPLICATION.
Increase in the risk of neonatal death without getting prenatal care
More likely to give birth to a low-weight baby without receiving prenatal care.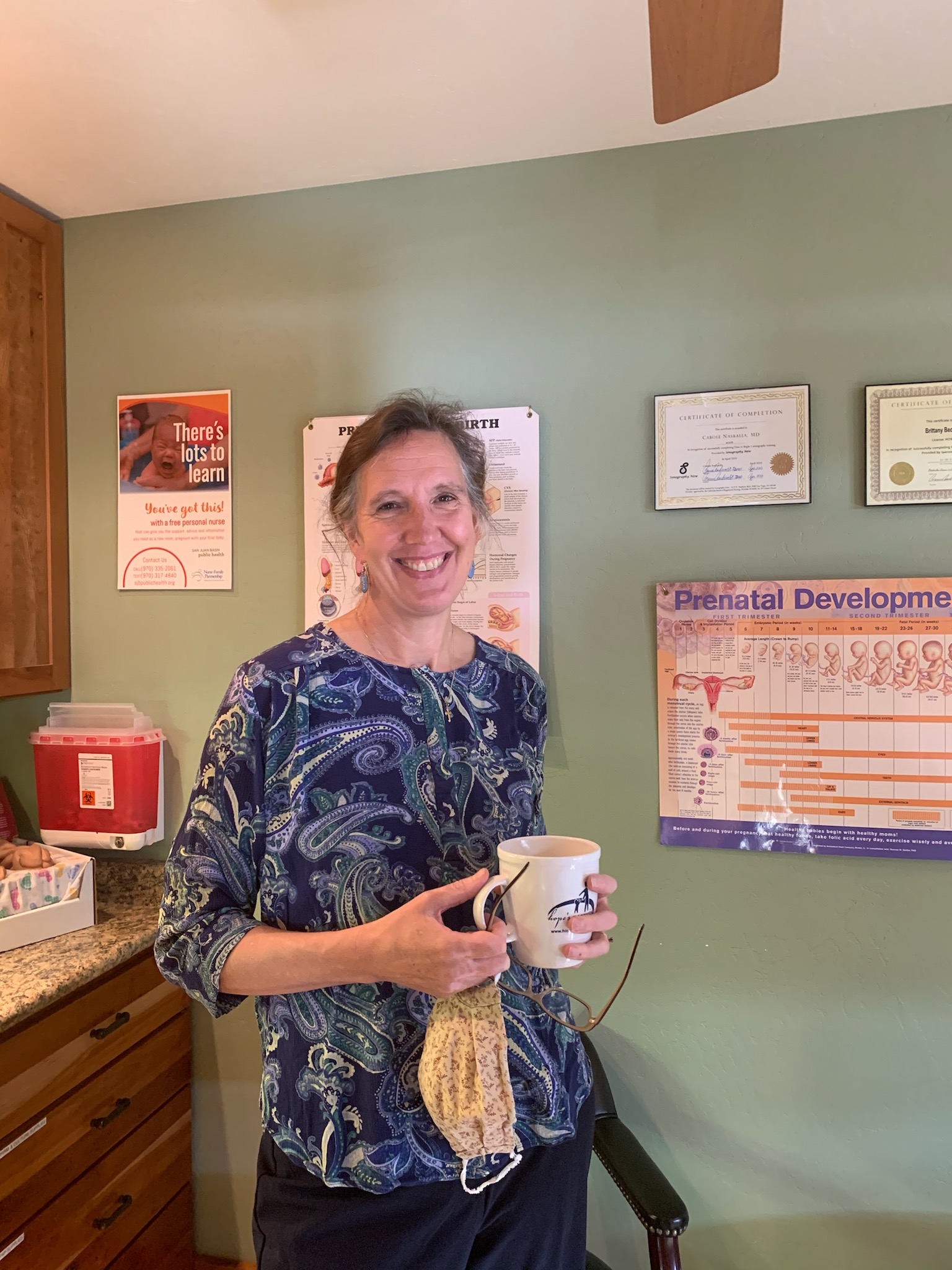 Our Prenatal Care Provider:
Dr. Carole Nasralla, MD
As the daughter of missionaries, Carole spent much of her youth living in India and traveling around the world. She returned to the U.S. for college, grad school, and eventually on to medical school at the University of Illinois in Chicago. She completed her residency in family medicine at West Suburban Hospital in Oak Park, IL, with an emphasis in women's health and obstetrics.
Carole and her family moved to Pagosa Springs in 2000. Since living here, she has worked at a variety of clinics, and currently works part-time at the Pagosa Medical Group as well as directing the prenatal clinic at Aspire. Carole has a passion for underserved communities and has traveled to Guatemala the past several years to serve the Mayan community there.
Carole and her husband Dave, along with their 4 children, stay very active in the Pagosa community. They love the great outdoors, whether it be hiking, biking, or camping, and they LOVE to travel! Their children are very involved in school, sports, theatre, and having fun in general.