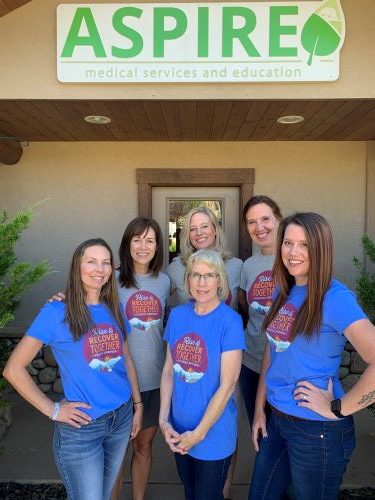 Aspire Staff (from left to right): Megan Castaneda, Renee Smith, Marcy Mitchell, Dr. Carole Nasralla, Brittany Bedtke and Becky Abraham (front center).
Our Caring Staff
Marcy Mitchell – Executive Director: Marcy served as a volunteer for 2 years as well as being appointed Client Services Director before stepping into the Executive Director position in 2017. Other local volunteer work included serving on the Pagosa Springs Town Tourism Committee Board, representative on the Pagosa Outreach Connection, leading Women's Bible Study and serving in the nursery at Centerpoint Church, being a Destination Imagination appraiser/coach and regional challenge master, and providing marketing assistance to a number of nonprofit organizations. In addition to volunteer work, Marcy Mitchell owns MTECH – Your Digital Shepherd. In that capacity, Marcy has worked with hundreds of small business owners to develop marketing strategies, websites and Internet presence for the past 20+ years.  She also served as a certified Marketing for Smarties coach, Small Business Development Center advisor, and spoke at numerous Chamber, community and SBDC events and seminars in the Southwest Colorado area.
When not running her business, Marcy and her family love hiking, skiing, exploring the amazing Colorado wilderness, and traveling. Marcy and her husband, Bart, have three children – Brayden, Hayley and Sydney. "I am so blessed to work alongside so many courageous and compassionate people at Aspire. We are privileged to welcome the newest babies into our community as well as support the young families of Pagosa Springs."
Carole Nasralla, MD – Medical Director and Prenatal Care Provider:
As the daughter of missionaries, Carole spent much of her youth living in India and traveling around the world. She returned to the U.S. for college, grad school, and eventually on to medical school at the University of Illinois in Chicago. She completed her residency in family medicine at West Suburban Hospital in Oak Park, IL, with an emphasis in women's health and obstetrics.
Carole and her family moved to Pagosa Springs in 2000. Since living here, she has worked at a variety of clinics, and currently works part-time at the Pagosa Medical Group as well as directing the prenatal clinic at Aspire. Carole has a passion for underserved communities and has traveled to Guatemala the past several years to serve the Mayan community there.
Carole and her husband Dave, along with their 4 children, stay very active in the Pagosa community. They love the great outdoors, whether it be hiking, biking, or camping, and they LOVE to travel! Their children are very involved in school, sports, theatre, and having fun in general.
Renee Smith – Client Services/Development Director:
More details coming soon!
Brittany Bedtke – Clinic Manager:
Brittany oversees care for our medical clinic clients and services which include prenatal care, pregnancy tests, ultrasounds and STI/STD testing. She is certified to perform limited OB ultrasounds and is an EMT and Medical Assistant. Brittany is very passionate about OB/Prenatal care! She has worked in several departments within Pagosa Springs Medical Center since 2009. In fact, she worked for our physician Dr. Carole Nasralla and Fran Scriber, PA in the hospital/clinic a few years back.
Brittany also owns Ski and Bow Rack – a successful local store in Pagosa Springs. She is married to Robert and the proud Mom of Trent, Peyton and Eden. She has lived in Pagosa Springs for 30+ years, loves the outdoors and skiing, and is very excited about caring for our Moms, Dads and babies!
Megan Castenada – Clinic Assistant:
More info soon!